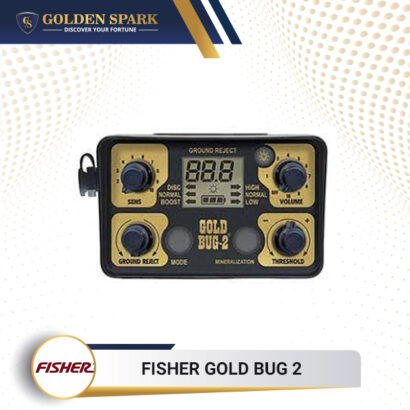 Fisher Gold Bug 2
The Most Sensitive Detector for Gold Hunting ever made.
For their flexibility, depth, and cutting-edge technology, for their ease of use and technical advancement, the many pros are favored by our detectors.
Simply put, Fisher's detectors have every feature you need for good hunting.
| | |
| --- | --- |
| Depth | 1m |
| Made In | |
| Warranty | |
| System Device | 71 kHz, VLF (Very Low Frequency) |
| Targets | Gold Nuggets, Natural Gold Prospecting |
Description
The Most Sensitive Gold Hunting Detector Ever Made by Fisher Gold Bug 2 Gold Nugget / Electronic Prospecting Metal Detector
Small Gold Nuggets Severe Sensitivity
Dual-Control Field Balance by High Precision
Iron Disc Mode for the Rejection of Iron & Hot Rock
Audio Boost for Deep Target
Hip & Lightweight-Mountable
Available with either an elliptical search coil of 6 1⁄2″" or 10″"
Frequency of Operation: 71 kHz
The Gold Bug-2, like the original Gold Bug, is designed to locate gold nuggets. It provides exceptional sensitivity, ultra-high frequency (the highest operating frequency on the market), iron discrimination, resistance to dust and moisture, audio-boost and the ability to work with a 3-position mineralization switch in highly mineralized soil. Backed by a 5-year warranty from Fisher.
THRESHOLD: Tiny shaft on the back of the control housing, threshold tone control.
MODE: Three-position switch toggle:
IRON DISC Mode for iron discrimination.
NORMAL Mode for normal operation of all metals.
AUDIO BOOST Hearing mode for faint, deep targets.
BATTERY TEST/SENSITIVITY: Dual-purpose potentiometer with Audio-Tone battery test switch, target sensitivity, electrical interference, and ground mineral controls.
GROUND REJECT: Dual-knob control that is used to electronically tune electronics to ignore minerals from the ground. On a big, 16-turn fine-tuning control, a small, single-turn coarse adjusting knob is stacked.
VOLUME: Switches on the power and monitors the volume of the signal response.
HEADPHONES: 1/4-inch plug jack for most stereo and mono headphones
SPECIFICATIONS
Length: Extended  53" 1 ,Collapsed 40" 1
Weight: Complete 2.9 lbs, Control Housing 1.0 lbs, Handle and Coil 1.9 lbs.
Frequency: LF Search  71.01 kHz, Response (V.C.O.)
Mineralization Settings:
1. High Mineral (Attenuated, Fast Auto-Tune)
2. Normal Mineral (Fast Auto-Tune)
3. Low Mineral (Gain boosted, Slow Auto-Tune)
Operating Modes
1. All Metal Auto-Tune (Normal)
2. All Metal Auto-Tune (Audio Boost)
3. Iron Discrimination
Audio Output: Speaker 2" Moisture Resistant, Headphone Jack 1/4" stereo/mono
Ground Adjustment: Manual, 16‑turn vernier dual‑shaft precision potentiometer
Dust, Moisture Resistant:      Yes
Manual Threshold Tunning: Small shaft on the rear of the housing, effective in All Metal, Auto-Tune Modes
Searchcoil
Type:                         Elliptical, Co‑Planar
Size:                          6.5" or 10" standard, other sizes available
Shielding:                 l00% ESI Interchangeable Yes
Waterproof:              Yes
Cable Length:           7 feet
Handle Mount / Hip-Mount Convertible:              Yes
Batteries:
Type:                                      (2) 9V rectangular
Life‑Carbon Zinc:                   10‑20 hours
Life‑Alkaline:                          25‑35 hours
NiCad:                                    5‑10 hours
Warranty:                              5-Year Warranty
Warranty may vary outside of the United States; warranty applies to the Original Purchaser Only. See your dealer for details.