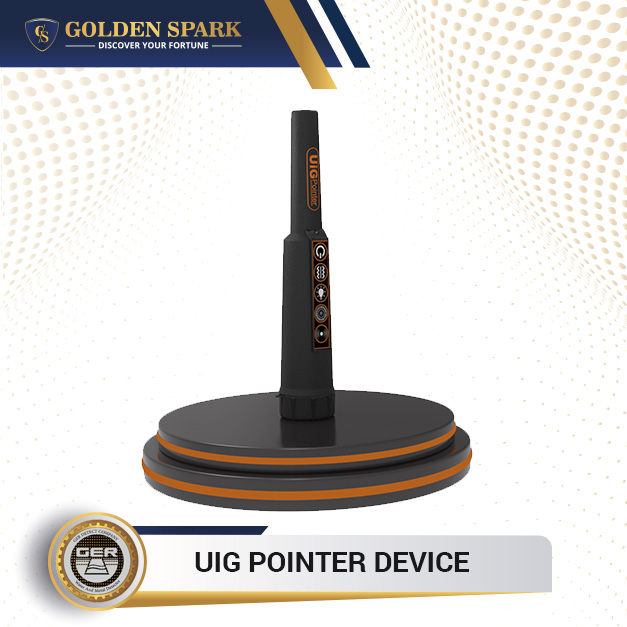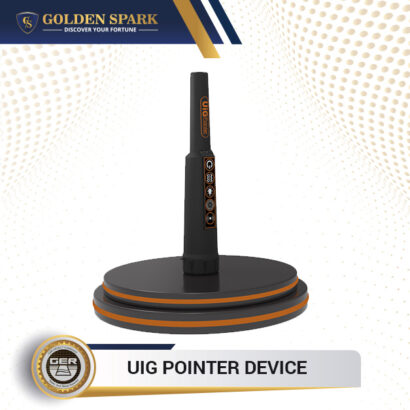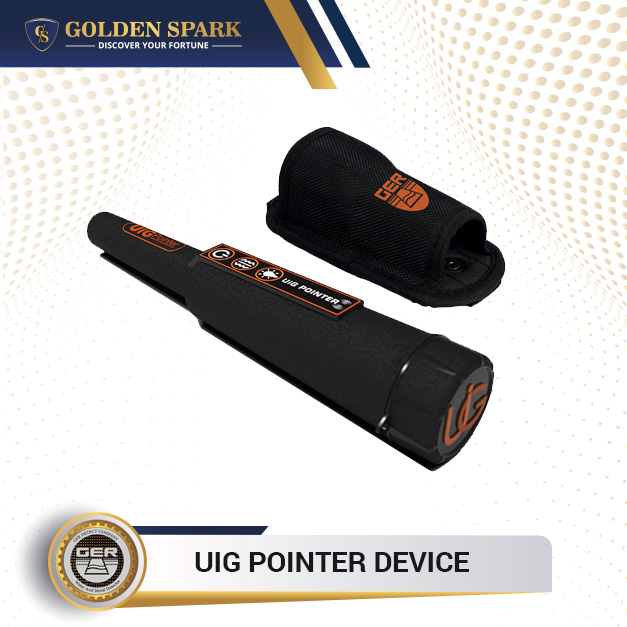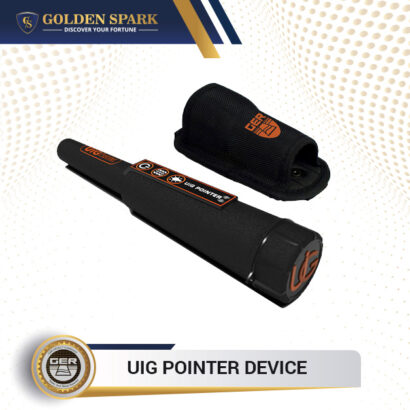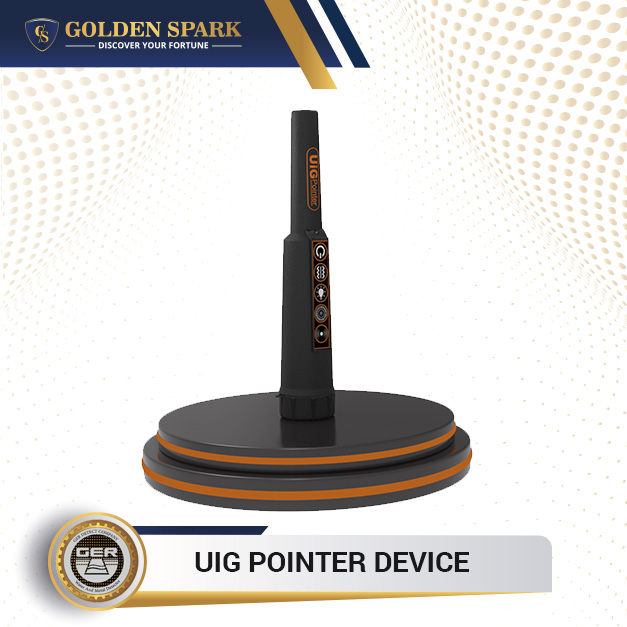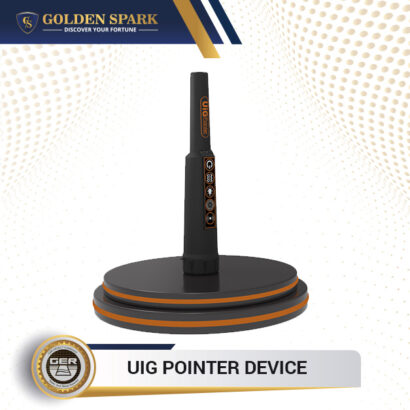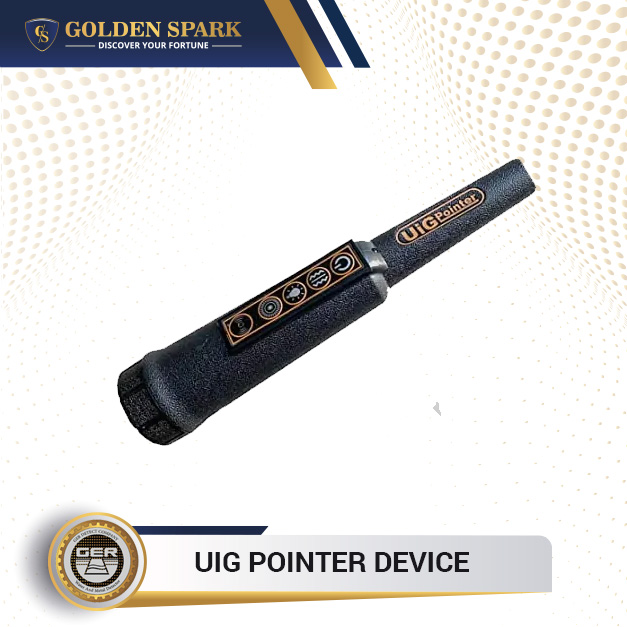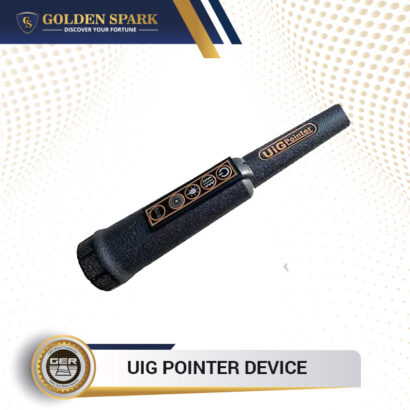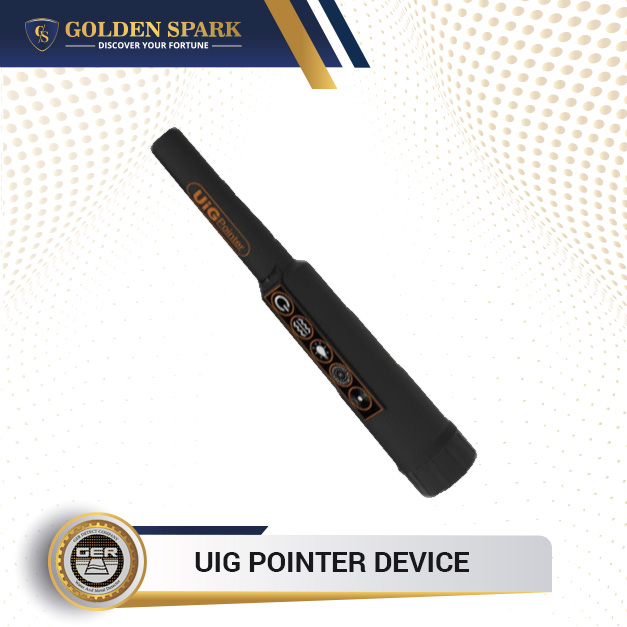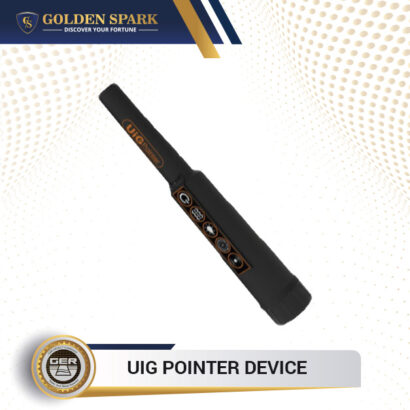 The capacity of UIG POINTER to discriminate between underground non-precious and precious metals
Both types of metals can be classified by UIG POINTER and whether they are precious or non-precious.
In collaboration with UIG DETECTORS, GER DETECT has developed the UIG POINTER to be the first of its kind in the world to detect metals, while at the same time distinguishing whether or not they are precious. The best system for detecting gold and precious metals: multi-use and high performance in all conditions and regions.
The high capacity of UIG POINTER to make two distinct sounds between the precious and non-precious metal.
Description
UIG POINTER has four buttons:
Power button: UIG POINTER begins after the ON button has been pressed for a long time.

Vibrating alert button: To trigger a vibration alert, click this button (when a metal is detected.)

Light button: To help prospectors search in dark areas, this button triggers the lighting function.


Calibration button: In the event of any intrusion that can impact the operation of the system, you must press this button.

The UIG POINTER is lightweight and simple to use. This device is designed to fit all nations and regions.
With European CE certification according to international standards, UIG POINTER is one of the best German industries.
UIG POINTER has a patent (certificate of origin) and a one-year warranty from the date of purchase from the highly-rated German industry.
Technical Specifications
Technical Specification Name
Technical Specification Value
Audio Output
piezo buzzer Ø:12mm – H:9.8mm sound pressure level 85db 10cm frequency 4.5±0.5 KHz
Length
Device (main unit): 234 mm
Data processing speed
12 MHz
Operating Temperature Range
0 C° to 70 C°
Operating Humidity Range
up to 95 % non-condensing
Storage Temperature Range
– 20C° to 70C°
Storage Humidity Range
up to 98 % Relative Humidity
Operating Time
6 Hours
Waterproof Rating – Detector
not waterproof (weather proof only)
Battery Technical Specifications
Type
ALKALIN Battery
Output Voltage
9 VDC
Run Time
6 Hours
Battery Operating Temperature
0 C° to 60 C°
Battery Storage Temperature
– 2C° to 70C°
Other Technical Specifications
weight total
276 g
Device weight
160 g
Battery weight
50 g
Bag dimensions
243mm x 59mm x 59mm