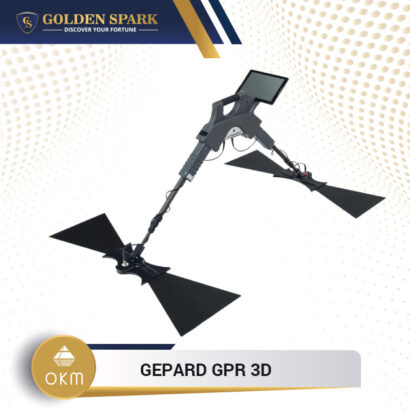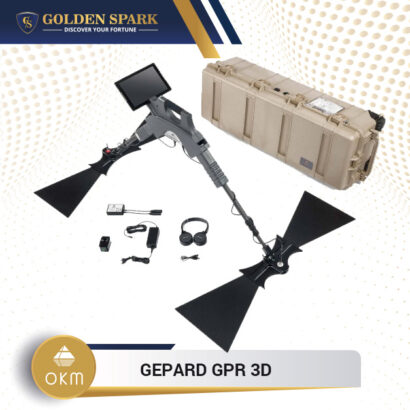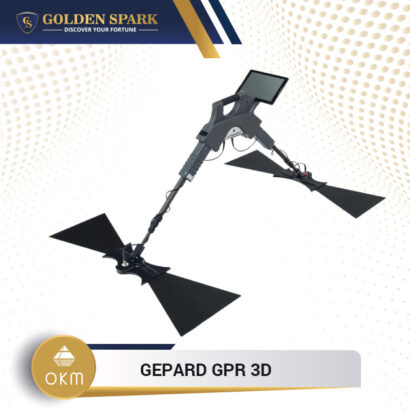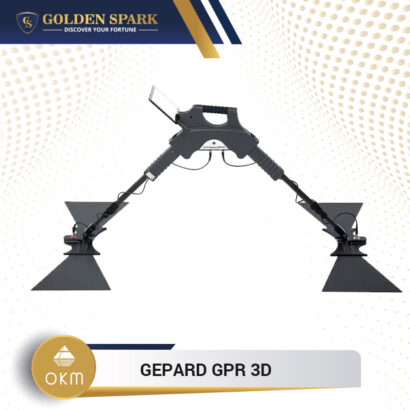 OKM Gepard GPR 3D
Powerful and flexible: Ground Penetration Radar with an all-way unprotected transmission system that reaches depths up to 40 metres.
Depth: Up to 40 meters deep objects were found by clients
Cases of use: archaeology, geoengineering, hunting for treasure
Modes of operation: Live Stream, Ground Scan
Detectable objects: pipels, cavities, wires, tunnels, bunkers and foundations. underground objects objects:
| | |
| --- | --- |
| Depth | 40m |
| Made In | |
| Warranty | |
| System Device | 3D Ground Scan, Ground Penetrating Radar (GPR), Live Stream |
| Targets | archaeology, geotechnical engineering, Treasure hunting |
Description
FEATURES
2D Visualization
3D Visualization
3D Ground Scan
Color display / Touchscreen
GPS (disengageable)
Height adjustment
Internal memory
Live Stream
Multilingual operation
Rechargeable high-capacity battery
Speaker
Wireless technology
DESCRIPTION
 The Gepard GPR is a highly flexible, potent Ground Penetration Radar for the detection of underground objects such as pipelines, cavities, cables, ducts, tunnels and bunkers.
The radar penetrating Gepard uses an all-directional unshielded transmission system to achieve maximum depths of up to 40 meters (131 ft). A single user can easily control the agile and compact unit using an Android Tablet PC.
Gepard GPR 3D's radio detection and range (RADAR) send a signal into the soil and expect the signal to reflect or echo to identify anomalies in the surface.
Detectable Objects and Structures
underground walls, basements and concrete reinforcements
hidden cavities, graves and sepulchers
water level and underground rivers and aquifers
buried pipelines, conduits and cable harnesses
backfilled wells, galleries, trenches and dugouts
septic tanks, distribution boxes and drainage pipes
secret tunnels, bunkers and shelters
buried treasure chests, statues and caches
Optimization of Ground Surveys
The Gepard ground penetrating radar is using a multiple transmission frequency range starting at 60 MHz up to 300 MHz which is realized by adjustable telescopic antennas. It furthermore supports many automatic adjustments to optimize your ground surveys on specific soil types, which makes the handling of the Gepard ground radar very easy. You just set your depth resolution and start surveying.
Measurement Data Analysis with Android Software
The measured data of the ground-penetrating radar is immediately transferred to the Android Tablet PC. The Android software receives the data via WiFi and displays it directly on screen.
The software offers the option of integrating a GPS signal or Google Maps, filtering automatically and entering notes for later recollection of specific scan details. Additionally, the automatic filtering option improves the results of your scan and assists in finding hidden objects and structures more easily. Due to the integrated GPS all scan positions can be stored along with the scan data.
Delivery Scope
| | |
| --- | --- |
| 1x | Control unit |
| 1x | GPR receiving unit with 2 triangular antennas |
| 1x | GPR transmitting unit with 2 triangular antennas |
| 2x | Telescopic shaft |
| 1x | Android Tablet PC |
| 1x | Waterproof and shock resistant Pelican case |
| 1x | Bluetooth headphones |
| 1x | Charging adapter and power supply |
| 1x | Travel adapter |
| 1x | User's manual |
Specifications
Control unit
Dimensions (H x W x D): 450 x 260 x 130 mm
Weight: approx. 1.6 kg
Input voltage (max.): 8.4 V DC / 1.0 A
Operating temperature: –20°C – 55°C
Storage temperature: –25°C – 60°C
Waterproof: No
Operating time: approx. 4 hours
Air humidity: 5% – 70%
Feedback: acoustic, visual
Protection Type: IP 20
Data Transmission Technology: WiFi, 2.4 GHz
Transmission Frequency Range: 60 – 300 MHz
Timing/Sampling Adjustments: 4 Levels
Complete Cycle Measurements: 9 per second
Telescopic shaft
Dimensions (H x W x D): 70 x 60 x 590–1630 mm
Weight: 0.80 kg
Operating temperature: –20°C – 55°C
Storage temperature: –25°C – 60°C
Waterproof: No
Air humidity: 5% – 70%
Protection Type: IP 20
Internal Battery: 7.26 V / 2600 mAh
Triangular antenna (unshielded)
Dimensions (H x W x D): 1010 x 330 x 50 mm
Weight: 1.50 kg
Operating temperature: –20°C – 55°C
Storage temperature: –25°C – 60°C
Waterproof: No
Air humidity: 5% – 70%
Protection Type: IP 20
The technical data are average values. Minor deviations are possible during operation.